Understanding The Components Of A Snow Plow
Whether you are looking to plow your own driveway or work as a contractor offering snow removal services, understanding the function of key snow plow components provides a foundation for success.
Moldboard – A steel or polyethylene sheet that is molded into a curve and is impact and corrosion resistant.
Cutting Edge – A replaceable carbon steel edge that is bolted at the bottom of the moldboard. It provides extra-long operating life of the moldboard. A cutting edge should be 1/2" above the ground when plow shoes are used and the moldboard is in plowing position; it can be higher when used on gravel driveways. Cutting edges are also available in urethane or rubber.
Trip Springs – Depending on the plow model, trip springs allow the moldboard to trip forward or the cutting edge to trip backward upon impact and ride over obstructions; this protects the snow plow, vehicle, and driver.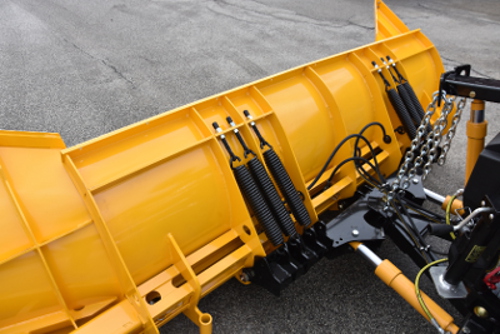 Mounting Frame – A custom mount designed to fit the plow system to your vehicle.
Lift Frame – Allows for fast, complete removal of front end hardware, moldboard, lights and hydraulic unit in one complete module.
Lift Arm – A steel arm that holds a chain to lift the snow plow.
Hydraulic Power Unit and Lift Cylinder – Operates the snow plow hydraulically - raises, lowers, angles, holds and floats the moldboard.
Crank Stand – Positions moldboard and lift frame for easy attaching and detaching. It adjusts the plow height in varying ground conditions for easy mount/dismount.
Plow Markers – Attach to the top corners of a moldboard to provide a line of site to the vehicle.